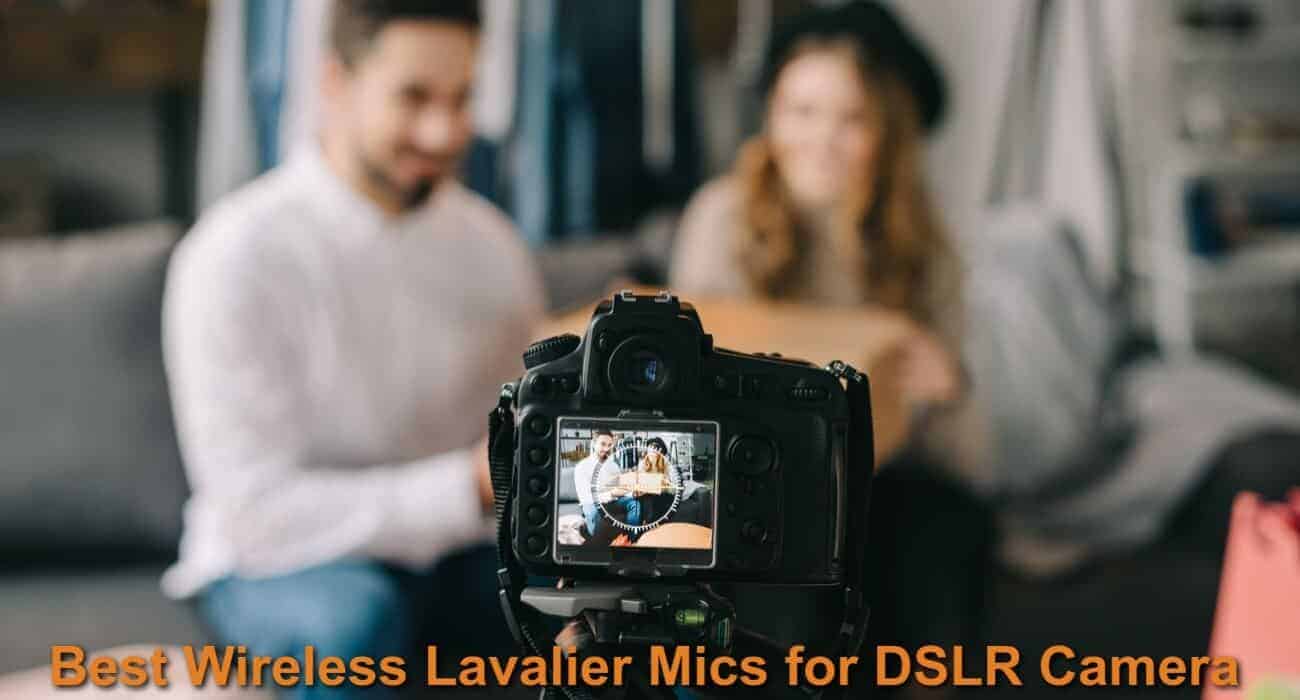 Clip-on lavalier microphones are essential accessories of any DSLR video kit, for it makes the filming of documentary and videomaking, especially, of narrative, tutorial, and training works easy. However, not all wireless lavalier lapel microphones are compatible with DSLRs. Some would require expensive DSLR audio adapters to make those lavaliers work well with DSLR cameras. Hence, if you intend to buy a lavalier mic for your DSLR, make sure that you buy the compatible one for your DSLR camera. 
Having wireless lav mics in your DSLR video kit is essential when you are making a documentary film or interview. The reason for this is straightforward—lavalier microphones are very useful in capturing audio, and they can be easily hidden from sight. But before you zero in on a particular brand of a lavalier microphone, you should know the important factors when buying a lavalier mic.
Not all wireless lav mics work well with DSLRs. More often, you would need a heavy-duty DSLR audio adapter when using a lav mic, and such an adapter is generally expensive. So, before you buy a DSLR Camera's  wireless lav microphone, you should know the following important factors that you need to consider when buying a lav microphone for your DSLR camera:
Know the Type of Lavalier Microphone
Lavalier Microphones generally come in different types, and the difference usually lies in their housing, clips, and mounting styles. You can go for omnidirectional lav mics or directional lav mics. You can also either select a wired or wireless lavalier mic. Lavalier microphones also differ when it comes to designs. Some are more durable, while some are moisture resistant. Others, however, are more sensitive to high frequencies.
Another factor worth considering is the noise-management element of the lavalier microphone. As you work with lav mics, you will readily discover that fabric noise and wind are usually the main enemies when you are working with lavaliers. Thus, you should learn the techniques on how to minimize mic movements. Some of these techniques include isolation mounting and clever mounting. Remember that silky garments tend to produce more noise than other types of fabrics like cotton.
They are usually attached using three different methods. These three methods include the use of clip, strap, or adhesive. Your choice, however, on attaching your lavalier mic should depend on the production type that you are engaging in. It should also depend on wardrobe limitations, permissible visibility, and potential mounting points.
You should consider the factors of location and mobility. If you are going to stage a conventional talk show wherein the movement of the guests and the show hosts are predictable, you can easily go for lavalier mics that could be readily attached to straps and collars. You may require more than a mic clip in some cases or go for a clear-mount setup. 
In an event with low visibility and high mobility, you need to carefully secure the mics and mount them discreetly. In such a case, you can also use a lav's strap that can completely hide the mic under the user's clothing. With this setup, you can ensure that the mic will stay in place despite the high mobility setup of your show.
There may be various reasons why we buy and use lavalier microphones, but one of the primary reasons is that of ease of hiding it. Hence, if ever you would buy a lavalier mic, you should consider this reason; you should consider its "hide-ability." Some lavalier mics are designed to be hidden from sight or frame during the video recording session using your DLSR camera, while some can be readily hidden underneath collars or shirts.
The noise factor should be foremost in your consideration when buying a lavalier lapel microphone for your DLSR camera. Since Lavalier mics come at relatively low prices, the temptation to settle for cheaper ones would be a great tendency. Some omnidirectional mics usually tend to be of low quality and pick up much noise, especially, after weeks of long usage. In such case, you will be required to minimize its audio input by using software for isolating noise. This move to minimize the audio usually sacrifices the low frequencies of audio inputs. Hence, it would be good at the onset to go for those lavalier mics that are of quality yet expensive.
Omnidirectional Lavalier Mics VS Directional Lavalier Mics
Lavalier Omnidirectional mics are generally easier to mount than those of the directional ones. Moreover, they can pick up sounds from different directions. Hence, you should opt for this type of lapel mics if you need to capture sounds from different directions during filming or videomaking. If you would use the lapel microphone inside a controlled and closed environment, you should go for directional mics, for this type of mics are mostly used in controlled and closed studio environments like in the newsrooms. 
Several decades ago, it would have been preposterous to recommend the wireless mics for video recording and filmmaking. Here are the reasons why? First, they were expensive then. Moreover, the quality of transmissions of sounds using the lav or lapel mics were highly questionable then. But with the improvement in transmission technology and the availability of less expensive but quality wireless mics, it is no longer unreasonable to recommend a wireless mic to filmmakers and video makers. If you are making a video film, therefore, you should without qualm opt for the wireless lapel mics for their use offer greater advantage now over that of the wired ones. 
Most Recommended Lavalier Mics For DSLR

Your choice of Lavalier microphones would either facilitate your works or make them difficult.. To make it easy for you to search for the best wireless lav mics for DSLR cameras, we have delineated here 5 of the most highly recommended lavalier mics for DSLR cameras:
1) Sennheiser EW 112P G3/G4-B Omnidirectional EW System
The Sennheiser EW 112P G3 surely has a great reputation among video makers and filmmakers, owing to its durability and reliability. It is frequently used in countless television broadcast, feature documentaries, and films. The evolution of wireless G4, on the other hand, provides unparalleled flexibility for field recording and videomaking projects. Both the G3 and G4 models, however, present a robust wireless microphone system that provides excellent sound quality, ease of use, and simple mounting procedure. These two lavalier mic models are specifically engineered for use by broadcasters in the field. Both are ruggedly built and provide an all-in-one wireless system. Both wireless systems likewise feature a powerful and reliable wireless transmission within the range of up to 100 meters. Both provide 8 hours of operation time likewise.
The G3 surely works well with DLSR cameras. Its kit is equipped with two distinct camera connection options. First, it has a connect option for bigger XLR-based cameras, while it also has another connection option for standard 3.5mm DLSR audio jack. It also works well with the Canon, Sony, Panasonic, Nikon, and many other types of DSLRs brands.
2) Sennheiser AVX Digital Wireless Microphone System
The Sennheiser AVX is a perfect option when it comes to film projects. It features an ultra-compact receiver that readily suits the XLR Audio input of DLSR cameras and recording devices. Its durable transmitter is reliable and portable and works well outdoors.
The Sennheiser AVX is a plug & play system. So, it is very easy to set up. It also readily switches on/off using its P48 Phantom power. Moreover, it features an optimized dynamic range.
It comes with a body transmitter along with a high-quality lavalier mic for DSLR Camera. It also features an implode receiver as well as al the important components for working professionally using DLSR cameras. Its receiver and digital transmitter are automatically set to the free channel within the frequency of 1930 Hz. Moreover, its receiver is very light and indiscrete.
Its receiver is ingeniously engineered and a nice improvement from the previous on-camera receivers. It will readily plug into the XLR input, especially if you are using broadcast-type cameras and camcorders. It also requires no cable. Lastly, it operates in a 1.9 GHz frequency range that is license-free. Thus, you can readily use it in many countries without having to register it.
3) Movo WMIC80 UHF Wireless Lavalier Microphone System
This is a reliable wireless lavalier microphone system that can operate over JHF frequencies from 584MHz to 607.4MHz. It presents dual groups of 48 channels and can easily operate and connect from over 330 feet away. This system can also provide you with reliable and satisfactory audio for all your different audio recording needs. 
This system includes an omnidirectional lavalier microphone that could provide uniform frequency response while limiting unwanted pickup of noise. You can easily clip this mic to your shirt using the lapel clips, while at the same time, you can easily attach the transmitters to your belt or waistband. It is therefore very comfortable to use and works perfectly from a distance. Out-of-the-box, you will receive a wireless receiver, two bodypack transmitters, 2 Omnidirectional lapel mics, two lapel clips, two windscreens, two belt clips, camera shoe mount, 3.5mm output cable, XLR output cable, system carrying case, and a user manual.
4) Rode RodeLink Wireless Filmmaker Kit
This Rode Rodelink model is a wireless microphone system for both video and film production. It comes with a lavalier microphone, RX-CAM receiver, TX-Belt wireless transmitter, and captive TRS cable. This system makes use of a Series II 2.4 GHz 128-bit encrypted digital-transmission signal which is characterized by continuous monitoring and hopping between different frequencies for finding the strongest signal. It also offers a high signal-noise ration and provides digital transmission the with high-resolution 24-bit 44.1 kHz. Its audio signal range of up to 328 ft. You can simultaneously use up to 8 systems with this system.
The Rodelink Wireless also comes with an iSeries Case from SKB. It is designed for accommodating the Rodelink transmitter and receiver bodypacks. These bodypacks also come with accessory pockets that can readily hold other accessories and the lavalier mic. It also comes with a Watson 4-Hour Rapid Charger together with a 4 AA NiMH Rechargeable Batteries.
5) BOYA BY-WM6 UHF Wireless Omnidirectional Lavalier Lapel Microphone System
The BOYA BY-WM6, as an omnidirectional microphone, is easy to set up and is perfect for use in videography, YouTube video, broadcasting, wedding, and any other applications. It features a plug & play system that works well with DSLR, Digital Voice recorder, camcorder, and many more.
The BOYA BY-WM6 UHF Wireless package consists of a transmitter, receiver, and lavalier for DSLR. It is indeed an off-wire mic system that is specifically intended for DSLR video shoot. It is capable of recording pure audio without any noticeable distortion.
As an omnidirectional microphone, it is distinctive sensitivity, while its accompanying system offers a very stable signal up to 100 meters. It also comes with clips for easy belt-fastening along with 1/4-inch fuse threads for quick installation on a bracket Magic Arm or tripod. Lastly, its devices can usually run along 584-608 MHz bandwidth.
You'll be surprised that its receiver and transmitter come with bright displays that let you readily read information. Additionally, it comes with a long battery life of up to 6 hours, enough to complete your most important projects. Lastly, its lightweight design with a pre-install waist belt lets you comfortably wear it in whatever situation you are in.