(Last Updated On: January 21, 2022)
Imagine you are performing using your acoustic guitar while you sing, and the guitar sound seems to come out well from your acoustic amps, yet the vocals coming out of your acoustic amp do not give your voice its full resonance. Well, this could happen if you are using an acoustic amp not meant for vocals. The trick is, you should go for an acoustic amp that is engineered for vocals as well. It should deliver the most accurate possible representation, not only of your acoustic guitar's sounds but also of your vocals.
Moreover, it should present solid-state amplification and low distortion. It should also be a woofer/tweeter dual speaker system. Besides, it should reproduce the acoustic frequency of your guitar and vocals with full lows and incredible highs.
Factors You Should Consider When Choosing Acoustic Amps for Vocals
Having the best acoustic amp for vocals and guitar will take your performance to the next level. Nevertheless, the best acoustic amps for vocals have succinct features that allow for the best amplification of vocals. If you are desirous of finding the best acoustic amp for vocals, here are the essential factors to consider when selecting an acoustic amp for vocals:
Dual Channels for Microphone and Guitar
If you are someone who plays the guitar and sings simultaneously, you will need this feature. Your choice of an amplifier should have dual channels for both the mic and the guitar. So, when choosing an amp, you should look for something with a mic/line inputs feature. It should include an XLR input and at least provide some phantom power. With both XLR input and line input, you can have a self-contained PA system that lets you engage in your gigs without requiring an elaborate PA system.
The acoustic amps thrive well with flat frequency response, without enhancements in some areas, just like a PA system. The good thing is that most manufacturers of acoustic amplifiers also know that the users of acoustic amplifiers also sing. So, they make sure that their acoustic amps come with an additional XLR microphone input.
Feedback Control
As you play while singing, chances are, you are using a transducer pickup or a microphone that can cause feedback when you play very near the amp. To lessen feedback, you should choose an amp equipped with a feedback suppression feature. In this way, you can play and sing without worrying about too much feedback.
Built-in Effects
When shopping around for an acoustic amp, you should not forget to check the amp's built-in effects. Check what effects come with the amp that could help you in your performance. It can be a simple compressor feature or a more useful loop function. It should have a built-in reverb for a more robust and bigger sound.
If you're a solo performer, you can also benefit from having an amp with a built-in loop feature. You can lay down a track with such a feature, like a rhythm track, and use it later during your performance. The effects should be useful and should address your needs for more robust and noteworthy performance.
Tailored EQ
Your guitar amp should also have the capacity to provide you with custom or tailored EQs. If you do not set up your guitar amp correctly, you would not sound good when you perform. So, your amp should let you create a tailored EQ setup. Almost all acoustic amps come with the same controls like gain, bass, middle, treble, master volume, and presence. With these controls, you can have a tailored EQ to raise your performance level a notch higher.
---
Most Recommended Acoustic Amps For Singing & Vocals
Besides knowing the different factors to consider when choosing an acoustic amp for vocals, it will be useful to know the most recommended acoustic amps. Below are the best acoustic amps for vocals in the market today:
Boss Acoustic Singer Pro 120-watt
If you look for a small package that packs a lot of power, you should consider the Boss Acoustic Singer Pro 120-watt. With 100 Watts for the woofer and 20 Watts for the tweeter, this amp is loud enough for your gig. It is also compact and portable, with an overall weight of 32 pounds.
The Boss Acoustic Singer Pro 120 features bi-amped with a 2-way speaker system that accurately reproduces guitar and voice. It comes with custom 8″ + 1″ speakers that deliver a punch and the needed dynamics that you can't find in the previous class. Moreover, it produces vocal harmonies according to your guitar input.
You can create loops and loop back percussion as you jam tracks instantaneously. Its acoustic resonance processing lets you restore your guitar's natural tone. Additionally, it comes with an onboard vocal delay, independent reverbs, as well as the guitar chorus. It also allows you to capture live performances and look at tracks on your computer via its USB audio interface.
The Boss Acoustic Singer Pro 120 offers separate DI outputs for your guitar and voice and sends wet and dry signals to FOH. Moreover, it provides phantom power for your condenser mics. Lastly, it comes with a two-button footswitch that lets you toggle between looper controls and vocal harmonics.
---
Boss Acoustic Singer Live
If you like an affordable compact acoustic amp, you should look at the Boss Acoustic Singer Live. It is a streamlined and portable PA system for someone who sings while playing guitar. It is a 60-Watt amp that is perfect for any gig. Moreover, it is a two-way, bi-amped speaker system that lets you reproduce your guitar and voice accurately. It also features custom 6.5″ + 1″ speakers that deliver the needed punch and dynamism for your performance. It also comes with an onboard vocal delay, independent reverbs, and guitar chorus.
BOSS Acoustic Singer Live LT comes with a USB audio interface that lets you capture your live performances and track your song concepts using your computer. Moreover, it comes with foot-switchable effects. However, you need to purchase the footswitch separately. It also has an anti-feedback knob that lets you diminish unnecessary and offending frequencies.
The Acoustic Singer Live is the little brother of the 120-Watt Acoustic Singer Pro, and it weighs around 23 pounds with the following dimensions of 14 -1/2″ x 10″ x 12″. Its speakers are 6-1/2″ along with 1′ dome tweeter.
The layout of the Acoustic Singer is orderly and clean. Its EQ controls come with a good sweep with the secondary controls that let you have deeper sculpting. This acoustic amp, of course, is a smart modern amp that comes with intuitive controls that let you reinforce a wide range of sound frequencies.
---
Fender Acoustic 100 Guitar Amplifier
If you want an acoustic amp for guitar and vocals, you can check out the Fender Acoustic 100 Guitar Amplifier. This acoustic amp is perfect for the coffee-house style of gigs. You can stream backtracks or use music from your smartphone via Bluetooth. This acoustic amp is portable with its integrated handle that enables you to transport it from one place to another. Furthermore, its onboard effects are superb and let you record everything to your computer or laptop via a USB jack.
As a portable amp, the Acoustic 100 is very compact with its 8-inch speaker that features 100W of power. Its design is stylish and very organic, with its natural wooden-colored enclosure that provides it with an organic appeal. Its two identical channels that combine a 1/4″ and XLR inputs come with easy navigation functions that include a three-band EQ and volume. It is light at 17.6 pounds.
The Acoustic 100 comes with built-in digital effects that include hall and room reverb, delay, tape echo, chorus vibratone, and delay and chorus and delay and reverb combinations. You can assign separate effects to each channel. Moreover, it comes with a Bluetooth function for easy interfacing with speakers and audio players. It also comes with a USB port that you can use to record to your computer directly.
---
Fender Acoustasonic 40 Acoustic Guitar Amplifier
One great option if you are looking for a portable acoustic amp is the Fender Acoustasonic 40 Acoustic Guitar Amplifier. It offers two channels for both vocals and guitar, and it has 40-watt power. It provides an impressive sound for playing in a small-crowd venue. It is also very affordable, and any budding musician can afford it.
Both channels of the Fender Acoustasonic 40 come with their independent controls, though each comes with the same types of controls. Each also comes with volume controls, three-band EQ with treble, middle, and bass, along with reverb control. Its controls are neatly arranged, giving it a neat layout.
This streamlined design makes it easy for you to adjust its controls. In both channels, you will find combined 1/4″/XLR inputs. It likewise comes with an auxiliary input for connecting external devices. Moreover, you can connect your headphones to this amp if you want to practice quietly. It likewise comes with a carrying strap for easy portability.
---
Orange Crush Acoustic 30
The Orange Crush Acoustic 30 is an iconic 300-watt acoustic amp that is very portable. You can wall-power or run it using batteries. Moreover, it features two channels for both the vocals and instrument. It is balanced and lush sounding and features a tilt-back ply cabinet made of birch. It also features an 8″ speaker.
The Orange Crush Acoustic 30 comes with an effects loop for preamp integration and features a 1/8″ auxiliary input for backing tracks while jamming. It also features pre-and-post EQ outputs that you can use for routing signals to your interface or mixing board. This amp has visuals and tones that can raise your performance level a notch higher.
---
Mesa/Boogie Rosette One:Ten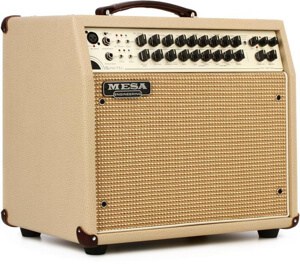 Another great choice when it comes to acoustic amps is the Mesa/Boogie Rosette One:Ten. This amp comes with two independent channels for your guitar and mic. It also features three onboard reverb types along with a foot-switchable effects loop. This amp provides you with so much power and enough tonal options. Moreover, it is light at 30 pounds and is perfect for on-the-go musicians.
Each channel of the Mesa/Boogie Rosette is independent of the other. Each also comes with many features that let you tune your amp according to your needs. The first channel comes with XLR and 1/4″ inputs, while Channel 2 comes with a single 1/4″ input for your guitar. Besides, it comes with 4-band EQs, along with high pass filters. Every channel is also equipped with a phase switch along with an LED indicator.
---
Conclusion
As mentioned above, you will benefit from choosing the right acoustic amp if you sing and play guitar simultaneously in your gigs. Of course, the right amp will make you sound better and can take your performance level a notch higher.
However, to zero in on the right acoustic amp, it will help to know the above mentioned essential factors to consider when choosing an acoustic amp. Moreover, if you know the most recommended acoustic amps in the market today, you get one step closer to finding the best acoustic amp in the market today.