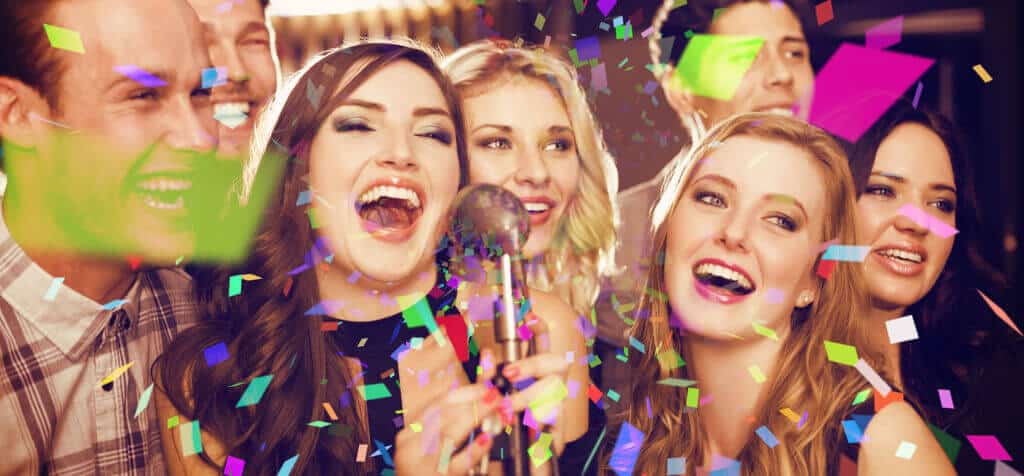 Singing using karaoke machine is definitely a favorite pastime at home and for families with adults and kids. Life is usually a cycle of sadness and laughter for many of us. Yet, you can turn sadness into an enlivening experience by belting some of your favorite classic songs using a karaoke machine. With the use of karaoke, you can appear to be the main vocalist of a popular band with adoring friends giggling and swooning to your rendition of your favorite song. Hence, there is surely no denying that in many occasions, the karaoke machine can serve as the best way to enjoy and while away time.
Karaoke has grown in popularity since its invention in Japan, and at present, millions of people spend their leisure times singing using karaoke. However, if you intend to buy a karaoke machine, you would surely be a bit confused as to which brand to choose because of the wide variety of karaoke brands at hand.
The Karaoke machine is excellent for enjoying the company of your friends and relatives. It allows you to belt your favorite songs as if you are on a stage, surrounded by adoring fans. 
Choosing the best karaoke machine, however, can also be a real challenge. The reason for this is that there are myriads of karaoke brands on the market today. Thus, if you intend to buy a karaoke machine, it would be good to know the different factors you need to consider when purchasing a karaoke machine. Here are the critical factors that you should consider when buying a karaoke machine:
You should figure out beforehand the usage of the karaoke machine that you intend to buy. Of course, you would need it for singing your favorite songs while whiling away your time. But you should also consider where and how you are going to use it. Are you going to use it personally or are you going to set it up in a party? Your answer to this question will help you figure out the specific features that you would like to have in your karaoke machine.
The karaoke machine that you should buy should be very portable. You should be able to carry it anywhere you want to have a karaoke party. This means that you can carry it easily even to your neighbor's house. Hence, if you are going to buy a new karaoke machine, you should check on this factor.
Another factor that is worth considering is the powering options of the karaoke machine. It should provide multiple powering options for you. It would be good if you can power it using AC or using batteries. Thus, if an electrical outlet isn't available, you can still use your karaoke machine using batteries.
4) Who Will Be Using the Karaoke Machine?
You should answer this question if you intend to buy the best karaoke machine for your needs. You can surely buy karaoke machines for kids and for adults. Karaoke for kids, of course, should not be complicated to operate. Karaoke machines for adults, however, have more complicated features. Thus, it is important to figure out beforehand who would be using the machine so that you can readily zero in on a karaoke machine that is ideal for your needs.
5) Where are You Going to Use it?
You should answer this question before buying a karaoke machine. Why? Because it will help you determine which features you should have in a karaoke machine. If you intend to use only at home, then a typical Karaoke machine would be good enough. Yet, if you intend to use in hosting a karaoke party, then, you should opt for karaoke machines that have powerful speakers. You also need to consider having multiple microphone outlets in your karaoke machine to allow for duets. It should also have various audio effects so that users can readily enhance their singing voice when using it.
You surely need a karaoke machine that has built-in speakers. This is necessary to produce sound. The speakers, however, should have all the parameters like the output options and the level of audio options. If your kids are the only ones who are going to use it, even those machines with not-so-powerful speakers would be good enough. But if you are going to use it in karaoke parties or other outdoor activities, then you should go for a machine that has a speaker jack so that you can readily connect it with any available output system that will cover larger area.
Your budget will determine the specific features of the karaoke machine that you can buy. With a higher budget, you can buy karaoke machines with multiple mic inputs and other extra features. Most Karaoke machines have two mic inputs, but you can also buy karaoke machines with multiple mic inputs. Other special features that a high-end karaoke machine may have to include those of built-in recording, disco light shows, wider screen, flash drive functionality, and portability. If budget is not a problem then, you can always buy high-end karaoke machines for your own enjoyment.
Best Karaoke Machines for Families, Adults & Home Use
1) Singtrix Party Bundle Premium Edition Home Karaoke System - #SGTX1
The Singtrix Party Bundle Premium Edition Home Karaoke System is a powerful karaoke machine packed with 2.1 speaker and a built-in subwoofer. Hence, it would surely deliver awesome audio and booming sound. It is also equipped with various effects such as powerful harmonies, natural pitch-correction, reverb, hard tune, and many more. Plus, it also comes with voice cancelation feature that decreases vocals when on standard music. 
You can use the Singtrix Party Karaoke system with your tablet, computer, smartphone, and even with keyboards and guitars. You can also sync your own song library with it. Moreover, the good thing about this karaoke machine is that it seems to change your voice making you sound good while singing.
This karaoke system comes with around 300 voice effects and other features that can really turn you into a seemingly real professional singer. You can apply the harmonizing effect, for example, when singing solo. This, in turn, makes you sing as if you have a backup choir.
You can also make use of its gender-bending feature to make your voice sound like someone of the opposite sex. It also comes with pitch control. This feature helps you sound like a natural singer with perfect pitch. Its pitch control also comes with three different levels of skill.
Lastly, its studio controller has all the effects, and you can attach this studio controller to the microphone stand. So basically, with this karaoke machine, you can have an awesome singing experience along with your friends and relatives. 
2) The Akai KS213 CD&G Karaoke System with Accompanying Table Cradle
Akai KS213 Portable has a top loading CD+G player with an iPad/tablet cradle. The cradle is not for the charging of tablet, but it functions as a placeholder as you connect your device to the auxiliary input of the system. With this interface, you can readily make use of your tablet to play some songs on your device if you prefer to use the CD+G method. Equipped with built-in speakers and operated on AC adapter or "C" batteries, you can bring this portable karaoke system anywhere you would like to sing some songs. It has two microphone jacks LED lighting system with Auto Voice Control and AV outputs that can easily connect to your television.
This brand has garnered positive reviews from its users, and its great portability endears it to its users. Its compatibility with tablets, likewise, is greatly appreciated by its users. However, some reviewers manifested their displeasure with the system's inability to directly receive streamed music from their devices. Moreover, they express their displeasure with its inability, as a docking system, to charge the devices that are docked on it.   
3) Singing Machine STVG785W Karaoke Machine
The Singing Machine STVG785W Karaoke Machine comes equipped with its own display screen. Hence, with this karaoke machine, you won't be needing any additional TV or computer monitor. This machine also comes with disco LED lights together with speaker output. This karaoke machine is complete, and you can readily use it out-of-the-box.
When it comes to portability, this one is surely great. It is barely 9.7 pounds, and its dimensions are 9.5 x 11.4 x 16.4 inches. It also comes with a dedicated LCD measuring around 7″. It plays highlight songs and displays awesome lyrics. It is also equipped with an RCA output that allows you to connect it to a TV easily. It likewise has an auxiliary input that lets you connect it with any audio device. 
Moreover, it comes with two microphone jacks complete with voice and echo control. The system of this karaoke machine supports MP3+G music via the USB port.
4) Singing Machine SML-385 Top Loading CDG Karaoke System
The Singing Machine SML-385 appears to be the best karaoke machine for those with limited budget. It comes with two microphone jacks. It is a CD+G system with separate volume controls for each microphone allowing you to duet with someone while you sing. It has equalizer too to enable you to adjust the level of sound readily. Moreover, it is easy to operate and comes with a useful user manual for your guidance at the onset.
It likewise has auto voice control, although you must be good enough in adjusting it manually. It is top-loading allowing you to switch the CDG's easily. Moreover, it has fascinating "disco light" which makes it remarkably awesome to look at. You can likewise easily hook this system to your television set for easy and fantastic use. This system may be cheap, but it surely affords you all the essential features of a convenient and easy-to-use karaoke system.
It is also equipped with a CD+G top loader and has led track display of two digits. It is also equipped with an auxiliary output and input so that you can stream songs to it from your smart devices. It also has a unique Auto Voice Control feature that allows singers to distinguish music and vocal tracks via a balance control individually. This makes it relatively easy to master songs. Based on the feedback given by those who have used this system, it is easy to gauge how satisfied customers are with the Singing Machine SML 385.
5) The Electrohome EAKAR300 Karaoke Machine
The Electrohome EAKAR300 machine can readily provide you with a memorable karaoke partying. It is quite affordable and features several arrays of music sources with concomitant accessories. It has a long microphone cord with a starter CD. It also has RCA audio video cables that make it easy to set up and use. It likewise includes CD+G karaoke disc that features music from different artists. You can likewise connect this system to your tablet, computer, or any smartphone and stream songs to the system.
It has a sleek and modern design that could readily add a stylish touch to your place. It is also lightweight and is very portable. It has dual mic inputs to allow you to duet with your fried. It also has digital track display with chrome and black buttons for convenient use. Lastly, the Electrohome EARKAR300 has fairly good reviews from those who have already availed of this system.
What Made A Best Karaoke Machine
As to all types of musical equipment purchases that require you to shell out some of your hard-earned money, buying a karaoke machine is definitely a good investment for those who love to sing. Yet, you need some simple tips on how you can zero in on a quality karaoke machine which will not immediately bog down after only several uses. 
1) Multiple Music Sources
The old karaoke machines had a built-in set of songs. However, with the improvement in various technologies such as those of computer and streaming technologies, karaoke machines have evolved likewise. Nowadays, karaoke machines come equipped with multiple features that allow for streaming music from various devices like those of a home CD, CD+G player, DVD player, smartphone, and MP3 player.
The Karaoke machine that you should buy must have excellent and decent audio quality. It should have a quality audio output so that you can readily connect it to your home speakers. It should also have its own quality built-in speakers.
3) Awesome Display Screen
Old karaoke machines did not have its own built-in screen. They were usually connected to a TV monitor.  Contemporary karaoke machines, on the other hand, have a built-in display screen. Thus, when buying a karaoke machine, you should check for the ones with an integrated display screen. 
You should go for karaoke machines that are easy to set up. It should be a plug-and-play machine that allows ease of setup. Moreover, it should be easy to operate and should have intuitive controls. It should also feature backtracking, good volume control, and different musical inputs.
5) Easy Installation of Apps and Stability
A good karaoke machine should be flexible enough to accommodate various apps from different operating systems. Thus, when buying a new karaoke machine, you should figure out if the machine allows for easy installations of apps.
This factor is necessary for your choice of a karaoke machine. The reason for this is that in many karaoke parties, alcohol beverages are often served. Thus, some users of karaoke machines can become so rowdy and intoxicated, and these people can inadvertently damage the machine. If it is not sturdy enough, chances are, the machine may break down. Hence, it should be sturdily built to ensure that it is not susceptible to easy damage.
Since karaoke machines are also not cheap, it is good to buy a machine that comes with a good warranty. This is to ensure that the item is covered if it gets damaged after a few uses. Good manufacturers generally ensure that consumers are protected with a great warranty. Thus, you should look for a karaoke machine that comes with a reasonable warranty.