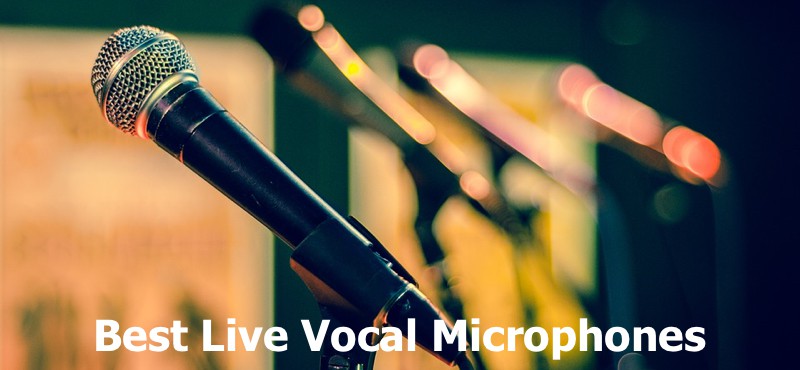 When choosing the best live vocal microphone there are some few facts that can be considered in order to select the best within hundreds of models that are available. If your main aim is to have a great mic that can record vocals with accuracy, an unidirectional mic is the most suitable option since it's good at isolating sound background and noise from other sources.
Performing at a live event is one of the best way you can showcase and present your musical talent to a live audience. However, if you don't have the best mic that clearly records your vocals and instruments with a high level of efficiency, you are likely to suffer from a low esteem since the audience cannot clearly hear you.
How to Choose Live Sound Microphones
This guide contains some facts that can help you to choose the best mic for performing on a big stage.
1) The Target of Your Budget
How much do you want to spend on buying a mic? Most great mics that are specifically made to record live events are relatively cheap when compared with other mics used in professional recordings.
2) Type of the Microphone
Do you know the type of mic that is most favorable for you? Well, if you are not familiar with mics, we recommend users to use dynamic mics when performing at a live stage even though a condenser mic can also offer great recordings. Most live music settings use dynamic mics while condenser mics are kept in live studios. Generally dynamic mics are less expensive than condenser mics and they can easily handle high sound pressure levels with efficiency. In a dynamic mic, the diaphragm moves the voice coil that generates electric current used by the mic. A condenser mic is technically less complicated but cost more than a Dynamic mic. 3. Vocals – Singing or speaking. Most top artists prefer to use inexpensive dynamic mics such as Shure SM58, beside other models, because dynamic mics provides a clear and thicker sound. If you prefer to use a condenser mic for your recordings, consider also adding a hyper-cardioid or cardioid that will keep out any unwanted sounds.
4) The On and Off Switch
Well, a microphone with switches can distract you a lot when it is accidentally switched off. If you want to prevent any convinces when performing on a live stage, a mic without any switches can greatly help you to focus with your vocals and presentations.
5) The Polar Pattern
A polar pattern is a direction in which a mic absorbs sounds from. For singing purposes, a mic that accepts sound from the front is a great option for any professional artist. When performing a music track on stage, the mic should be able to suppress any unwanted sounds coming from the sides and only amplify sound coming from the front. A mic with a cardioid polar is good for live performances, since it records sounds with a high level of accuracy.
6) Wireless or Wired?
Nowadays, wireless mic are very popular and are ideal for a great live performance or concert. A wireless mic enables someone to walk freely on stage and perform his or her calligraphies without stress. Generally, a wired mic isn't bad but a wireless one comes with more benefits and features.
7) Application
Before you choose any mic, it's considerably good to know where you are going to use it and for what purposes. If you main goal is to purchase a good mic for use in a live event and stage performance, then a condenser mic can offer great benefits. Louder sounds from musical instruments such as Guitar, Drums, and basses require one to have a high quality dynamic mic.
5 Best Live Vocal Mics
1) The Shure SM58 LC Cardioid Vocal Mic
The Shure SM58 LC Cardioid Vocal Mic is one of the most popular dynamic microphones in the world today. Its price is quite fair and it's within a typical range of almost a hundred bucks. When compared with other dynamic mics, this mics offers a great sound quality record and this properties makes it the best live vocal microphone in the market. The SM58 LC is designed for use in live performances, studios and stage settings that requires one to use a mic. It's tailored for vocals with a frequency response of 50 to 15,000 Hz and a brightened midrange.
Beside this, the mic also features a pneumatic shock mount system that helps to cut down any handling noise. Its uniform cardioid pickup pattern clearly separates the main sound from background noise. If you are up to a quality dynamic mic, consider having this amazing mic on your list for the best live vocal microphones.
Check Out Best Price For Shure SM58 LC Cardioid Vocal Mic On Amazon
---
2) The Shure SM57 LC Cardioid Dynamic Mic
The Shure SM57 LC is one of the greatest mic for music studio. It's very popular and can also be found in small setting stadiums and small clubs. This powerful mic can be used by legendary performers and the latest up-comers. The mic comes with a uniform cardioid pickup-pattern that isolates the mic source while preventing any background noise from being recorded. It also features instrumental amplifier miking, a frequency response of 40 – 15,000 Hz, precussion and a contoured frequency response that is clean.
Check Out Best Price For Shure SM57-LC Cardioid Dynamic Mic on Amazon
---
3) AKG-D5 Vocal Dynamic Mic
The D5 vocal mic delivers a very powerful sound from a noisy stage. It's extremely great for concerts and live events which are performed by more than two artists. The mic features a stainless steel wire mesh grill, Laminated Varimotion diaphragm and rugged vocal capabilities. If you prefer no on/off switch, the mic comes in two options where you can choose between a switchless and switchable mic.
The best advantage this mic has over other dynamic is the unique capability of separating noise with the pristine sound of the singer. When compared with other dynamic mics, the AKG D5 does has a lot of similarities and the only main difference is its price which is in the middle of Shure Mics and other lower-cost models. If you can't afford to have Shure Mics, you can go for this fabulous mic since it's extremely cheap.
Check Out Best Price For AKG D5 Vocal Dynamic Mic on Amazon
---
4) Blue Microphones encore-100 Studio-Grade Mic
Designed by Blue Microphones, the encore-100 mic is a great mic that provides a good performance. The mic delivers unique natural vocals with balanced highs and provides artists with the clarity they need when performing at live stages. With the versatility of its tuned Aria dynamic capsule, this mic handles broadcasting and studio applications with ease. The encore-100 mic comes with a cardioid polar pattern that delivers impressive off-axis noise rejection, reinforced grill for stage construction and a soft lined storage pouch.
Check Out Best Price For Blue Microphones enCORE 100 Studio-Grade Dynamic Performance Microphone On Amazon
---
5. Sennheiser E835 Mic
This mic is designed for artist that perform under pressure, its capable of isolating background noise and it comes with a high SPL like most dynamic microphones. The E835 can be used for home studio recording or even vocal stage presences. When compared with Shure mics, its frequency range is a bit wider but most people can't easily notice that. If you travel a lot, the mic comes with a pouch and a clip that offer convenience traveling. Generally the E835 mic is a high quality vocal mic that has its own unique features, but it's a bit expensive than SM58. If you love this mic and you are not in a tight budget, we would suggest that you go for it.
Check Out Best Price For Sennheiser E835 Dynamic Cardioid Vocal Mic On Amazon
---
Conclusion
Most people out there have a lot of conflicting information about the difference between different condenser mics. According to our preference, the Shure SM57 and SM58 would be great for a live audience performance. To settle down the difference, the SM58 has its own frequency dialed to a certain range that is very common among most artists while the SM57 doesn't have a specific tuning and it normally handles frequencies on wider scales of 40Hz to 15000Hz. If you are looking for the best live vocal microphone, these two mics can offer you great voice recording capabilities and will last for quite a long time.