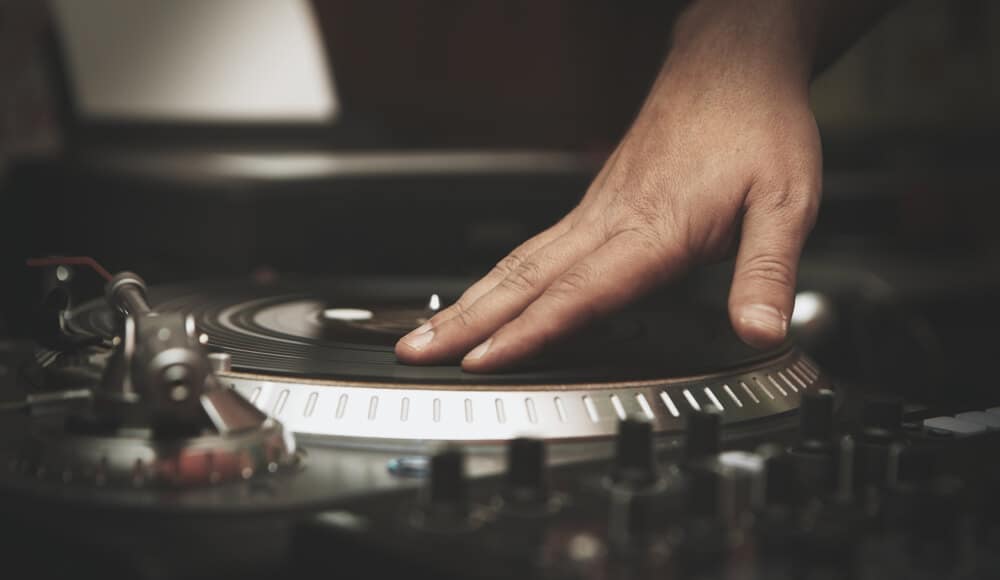 One of the most important and fundamental techniques in the use of turntables is scratching. This brings out the distinction between DJs and turntablists, so choosing the best equipment is crucial in improving your skill as well as making music explorations wider in scope in beat-making. 
As was mentioned before in the previous articles, there are certain factors and qualities to consider for your gadget to perform at its best. Here are the important qualities and features you need to look for in your equipment. This list, along with the description, will guide you in choosing the right equipment that you also need to boost your skills.
Belt Drive Vs. Direct Drive Turntable
If you think about it, if you buy an old-version turntable which is usually belt-driven turntables, they will easily break because of the tendency in backspinning. 
Look for Direct drive turntables, which are more popular, modern, easier to maintain, and able to handle scratching well. Motors in direct drives spin in a steady, consistent rpm, and it has a higher torque in comparison to belt drives even if you play the track in reverse. 
Paired with your cartridge, the tonearm's quality dictates the tracking and sound quality, making this a crucial factor to consider and monitor. It would help if you are looking for a heavy-duty, anti-skating tonearm, and has adjustable height and counter-weight so you can easily customize it according to your preference and steady when it runs along with the record. 'Anti-skate' means that it applies slight pressure to the angle of the cartridge and responds accordingly to it and prevents it from going out of line or "skating" across the surface. Use the manual of the turntable for the settings and adjustments on the tonearm. 
It is also vital to distinguish between a straight tonearm and an s-shaped tonearm, which is the most common. Most club DJs vouch for s-shaped tonearms because of the sound quality it effects while many Scratch DJs prefer straight tonearms since these can track precisely. Straight tonearms apply a sufficient amount of pressure that keeps it in place while scratching s-shaped tonearms yet can also equate to these if it's properly setup.
Though not necessary, pros find these essential. The pitch slider enables you to control the pitch range on the slider, which is a handy effect for scratch DJs, and if you want to beatmatch. 
'"Beatmatching' is to shift or stretch the time of another track to match the rpm of the first track you're playing. Synchronizing two tracks by beatmatching will make it easier for you to apply effects. If you want a track that has a +/-8% pitch to +/-16%, or at its maximum +/-100%, you must check the turntable if it can keep up with the adjustment quickly. 
Recommended DJ turntables for Scratching
Stanton T.62 MKII is a direct drive turntable with high torque. It is a durable model and has guaranteed professional quality offering great sound quality and performance along with its competitive pricing. It is also user-friendly and versatile for different DJ styles, ranging from beginners to advanced level DJs. It can playback tracks on 33 and 45 rpm. 
Attached to the Stanton 300 cartridge is a straight tonearm which makes a superb tracking ability for scratch DJs. It is also equipped with a professional-grade slip mat and a Deckadance DVS software, which makes the ensemble complete. 
Stanton T.62 is quite a gadget that is tough to beat in the market with its performance, though there are still some obvious drawbacks. It lacks some standard features like a headphone output, in-built speakers, and a USB interface, which puts it at a considerable disadvantage in comparison to other gadgets within the same price range. Also, it can only playback at two speeds and lacks the 75 rpm. 
With these minor issues, Stanton t.62 manages to bring its game with its unique features and performance on all its own.
Audio Technica AT-LP120XUSB
This model is an upgrade to the popular LP-120. Audio Technica has amped up its features and improved its look to make it more user-friendly. 
Audio Technica AT-LP120XUSB is a manual, direct-drive turntable that playback at speeds 33, 45, and 78 rpm. For connectivity, it has a USB output that can be directly plugged to your laptop or computer with either a free-MAC or PC Audacity or any recording software by which you can export or convert any record you want into digital audio format.
Audio Technica has been the leading brand (running for 50 years now) in producing high-quality cartridges, and this model features its AT-HS6 universal 1/2- mount headshell whcih comes with an AT-VM95E Dual magnet phono cartridge. This cartridge is paired with a 0.3 x 0.7 mil elliptical stylus, which can match any VM95 series stylus for replacement, versatile in terms of budget and usage. This model also has an s-shaped tonearm with an adjustable tracking force.
At first glance, you will notice its removable hinged dust cover, die-cast/spotted aluminum stroboscopic platter including a felt mat. Its buttons are placed within sights; this includes—start/stop button, pitch lock that boasts its accuracy with its use of quartz, a pitch change slider control with a range of +/-8% to +/-16%. The platter has a speed indicator, and there is also a removable plug-type stylus target light and external power supply.
It also has a built-in selectable phono amp to connect to a home stereo, as well as a detachable dual RCA output cable.
It also highlights the ease of use in its setup since its buttons are pretty much easy to find along with the deck. It has an adjustable anti-skate control platter, which is one of the few turntables that is guided with lights.
This is an entry-level turntable with a considerably high torque (but not comparable to the PLX1000). The pioneer PLX-500 has a direct drive motor and an electronic speed selector that can playback at speeds 33, 48, and 78 rpm. 
If you want to further the capacity of this turntable for playing ad mixing record files, you may want to purchase a Rekordbox DVS, DJ mixer, and RB-VS1-K control vinyl. 
Many DJs have found this model decent and convenient for home listening, recording, and even playing old records dating back from the 1960s.
The PLX-500 is unique in terms of the tonearm since it makes use of an s-shaped tonearm with a 'gimbal' design—this refers to the bearing that lessens the friction, which allows for more precise tracking. It also has a die-cast aluminum platter that stabilizes speed. Though many comments on its hard-plastic build. Though its tonearm and platter are made up of metal that reduces unwanted vibrations, the body which is made of solid yet hollow plastic tends to reverberate sounds from external factors that may come as a big deal in club performances.
It also has a USB output for digital recordings from vinyl, also gives them the capability to convert vinyl records to digital audio files with their laptop.
One of the creative touches made by pioneer on this device is the sleeve stand, which lets the user display the covers from the music while playing.  
All in all, the Pioneer PLX-500 is a decent turntable for beginners as they learn to beatmatch with its responsive pitch fader and some slight adjusting to the tactile approach on the platters for scratching at home.
This has been reviewed before in the previous article as one of the prime turntables that are meant for scratching. In comparison to the PT01 USB, this is improved to cater to scratching and non-scratching styles. It has become more manageable and precise in cutting and scratching and has inherited connectivity options as well as features from the PT-01. 
Though, you may want to exchange its stylus with a more superior one to get the most of the sound quality and also a sound system to make up for its in-built speakers. 
Scratching is one of the versatile techniques in DJing that you can mix your tracks creatively and show your music expression in grooving it out in your performance and even if you're practicing and recording in your home. For Scratching, you have a lot of options with features that go well with their prices. Budget-wise, as much as possible, you should pick your turntable according to your preferences.