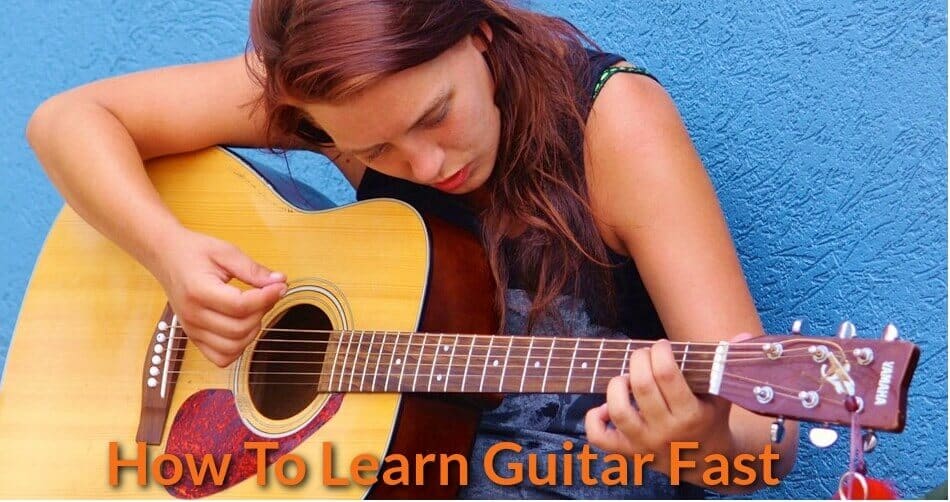 There is little point in practicing playing the guitar without the methodical exercises that are needed to take your skills for playing the guitar to another level faster. I used to spend much time just playing the exercises and songs I liked. I'm absolutely wrong, in fact, I should come up with my plan for guitar exercise and keep doing it for some weeks and then make revisions of it strategically to ensure my skills for playing the guitar are improved consistently.
Best Ways to Learn Guitar Faster
For those people who are not skillful in any type of musical instrument. It's easier to learn guitar faster than any other type of musical instrument. Why? The answer is that of all the instruments the guitar is the easiest to learn. Well, that doesn't mean that you can play songs on it overnight. You will need a certain level of dedication and determination in the learning process.
There are some methods to go about learning to play the guitar. You could go to a music school, or learn from a professional. However, if you are aiming to learn to play the guitar quicker than the other traditional ways, then professional coaching is not recommended. Professionals have a habit of sticking to a strict schedule, notwithstanding the specific needs of different pupils, and this will necessarily slow you down.
1) Learning Guitar From Internet Video Tutorials
Alternatively, you can take lessons from the internet for playing guitar. The net has various comprehensive sites to choose from. They are user-friendly and take you step by step while you learn at your own pace. One easy way to learn from the internet is to learn a few basic chords and practice until you perfect them. The chord structures can be found anywhere on the net. You must learn to glide from chord to chord easily and with confidence. Learning by yourself will help you to stick to your schedule of learning fast.
It would be no surprise to hear that many famous guitarists owe their skills in the guitar to online courses. You can pick the same path as them. Time and patience are what you need to apply the lessons taught through online guitar videos.
2) Find A Guitar Buddies
Another method could be if you have a friend who is a professional guitar player and is willing to teach you the short-cut and fundamental skills in playing the guitar.
My Advice:
These are the two ways that you can pursue to master the basic guitar playing skills within the shortest period of time. You wouldn't become a professional guitar player, but at the very least you will be able to play several of your favorite songs in weeks.
Most Effective & Efficient Ways & Methods To Practice Guitar
Learning to play the guitar is a fairly easy process as long as you have the will to learn and practice. Nothing can be achieved in a day or two, and so it is with the guitar too. However, let me give you what I call the most effective ways and methods to learn the guitar skills quickly.
Regardless of the method, you planned to pursue. There are some fundamental principles and strategies you must know so that you will be able to master the guitar playing skills in a shorter time frame.
Here are some tips to help you keep the serious mistakes it has taken me several years at bay.
1) Choose Your Effective Guitar Learning Methods
Making good use of time is the notion that skilled musicians are good at. Putting into practice only the things that are needed and knowing the angle with which to approach a particular session is vital to the maintenance of your craft. You need to train and practice your guitar skills more strategically. And it will accelerate and shorten the time you needed to spend on learning how to play guitar professionally.
2) Practice Scales Being Notes Collections
In the place of forever playing your scales descending and ascending, try to make riffs and melodies after getting the idea of the notes' whereabouts. This will go on to make the scale much more interesting. Also, it will inspire you to do more practice.
3) Learn Guitar Chords
Learn all about guitar chords even before playing a song on the guitar. It is like learning to crawl before you learn to walk. You have to know which chord brings out which sound and why the chords are set in a specific manner and stretched in specific tension. These are little basic information that will go a long way in helping you learn better.
A guitarist has to learn the guitar chords before going on to strumming a song. Just follow the instructions and practice intensively and daily and soon you would have mastered your guitar chords.
You can advance to playing songs on the guitar once you had learned the chords and had mastered it thoroughly. The online guitar chord lessons are structured in a very systematic and straightforward way for a beginner to understand and follow. The online sites are user friendly, easy to comprehend and follow. The only requirement is that you need will commitment and regular practice. So, go ahead and learn to play the guitar and fulfill your dreams of becoming a guitar player without burning a hole in your pocket.
4) Improve Your Guitar Musical Skills By Reading Guitar Sheet & Tabs
You must have heard of music sheets read by vocalists when they sing, right? Well similarly the guitar tabs or tablature as it is called the music notation reading and understood by all guitarists. We can call it the guitarists' lingo.
All beginners need some guidance in reading the tablature since at first, it may seem a bit incomprehensible. In fact, reading a tablature can be pretty challenging sometimes and many guitar aspirants have given up due to lack of progress in reading the guitar tabs.
Rest assured it is not an impossible task. In fact, you do not have to join any classes for learning to read the tabs. There are a lot of online sites that helps you to learn the acoustic guitar tabs. Most of the sites are free and some of them are very nominally priced especially when compared to fees charged in music schools.
5) Put Arpeggios Into Practice
The best way through which you can understand all the notes that are combined to make a chord is by playing arpeggios. It also presents a great way of moving away from the "scalar" ideas that are included in the way you play. Working on various fingerings for Arpeggios and scales is possible. Why play arpeggios and scales, in the same manner, every time? Could be what is needed is the playing of various patterns and test the normal tendencies to be able to play particular phrases. You will most likely find out a better way of how to play something.
6) Use Metronome While Practicing Guitar
Many students confide in me that a metronome is not necessary to them as they possess great timing skills. While this is alright, using the metronome can still be beneficial especially for beginners. Make use of the ticker for tracking your progress with a hard riff, arpeggio or scale patterns. Slowly increase your tempo on a daily or weekly basis so that you will be able to tell if you are getting better.
7) Practice In Your Mind (when you do not have your instrument)
Learning music theory will improve your musical skills. However, it's also wise to visualize the fingerboard inside your mind as well as going through a session of practice that will then make you confident because you have your 100% focus on what is required. And you will not get frustrated with your progress.
8) Set Your Goals & Motivations
Motivation to develop your skill and achieve your goal is fundamental. Imagine being able to excel in this art form, showing off to friends, playing in front of the audience and the excitement and happiness it brings to you and all others. This thought will make your learning process enjoyable and fulfilling.
Also, try to have fun with it and try to give yourself small prizes after each significant improvement. Make deadlines for a particular improvement and progress.
9) Work On Your Limitations and Weaknesses
Many guitar players who are undisciplined when practicing tend only to play the songs they are very familiar with. This is okay when warming up, however, if you are serious regarding the improvement of your skills, you are required to know all your weaknesses and give them all your attention. These could turn out to be what you like best!
As you have already mastered the fundamentals of the guitar now it's time for you to seek out more advanced skills and different guitar playing styles to learn.
10) Pick Some Easy Songs To Practice
Stick to the easy songs to practice at the initial stage and build up your confidence and to get the feel of guitar playing. To do this, you can keep playing two-chord songs which are very easy and will keep you away from feeling frustrated. The more complex songs can come later when you are more skilled.
---
Additional Tips:
1) ABC of the guitar: Attempt basic chords ONLY at the beginning. The more complex chords can come later. Learning the basic chords will provide you with enough skill to play quite a few songs comprising of basic chords.
2) Check our guitar for finger action: Make sure that the distance between the fingerboard and the underside of the string is appropriate for your finger movements. Any reputed guitar shop will help you to check this out.
3) Maintain Rhythm: Maintaining rhythm throughout the song is essential for a perfect playing of a song. Use a metronome to practice rhythmic playing of guitar or else tap your foot to keep the rhythm.
4) Do not try to buy Skill: Don't get bamboozled into buying an expensive guitar. It will NOT help to improve your skills. Unless you become proficient in your playing, an expensive guitar will only contribute to amplify your mistakes.
5) Last but not Least: Practice makes perfect. Remember that nothing can replace practice and your ambition to become a good guitar player. So, don't forget to practice regularly and with enjoyment to become a good guitar player.